Date:
April 9, 16, 23 & 30
Location:
Virtual
CE Credit(s):
applied for
Our biggest-ever virtual event held, over four Fridays this April: the 9th, 16th, 23rd, 30th (featuring CE credits*).
Register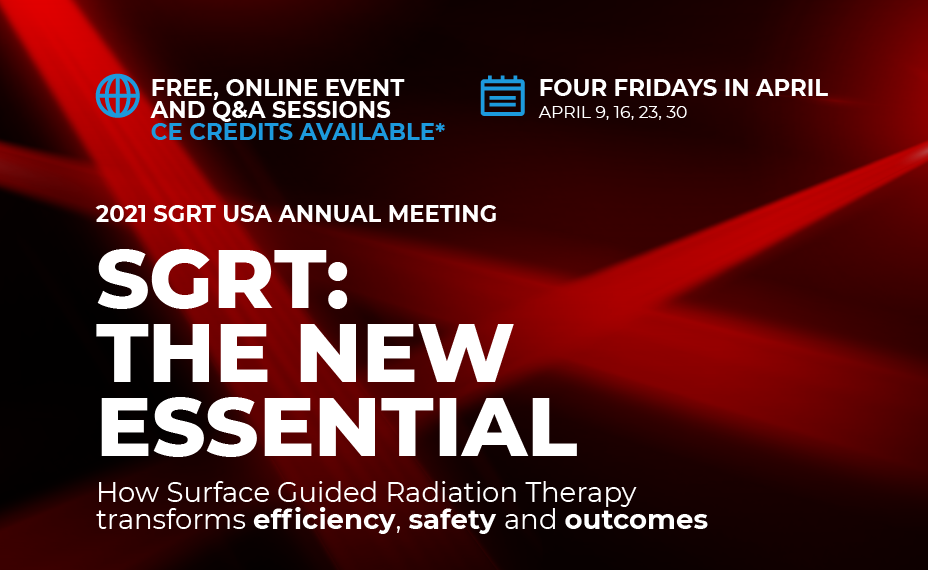 Agenda
Day 1 – SGRT: Addressing Today's Challenges
Friday, 9th April, 1 pm EDT
This meeting has applied to CAMPEP for approval of 1.5 MPCEC hours
Day 2 – Deep Inspiration Breath Hold (DIBH)
Friday, 16th April, 1 pm EDT
This meeting has applied to CAMPEP for approval of 1.5 MPCEC hours
Day 3 – Stereotactic Treatments
Friday, 23rd April, 1 pm EDT
Day 4 – Increasing Efficiency and Throughput
Friday, 30th April, 1 pm EDT
About the event
For many clinics, the use of Surface Guided Radiation Therapy (SGRT) is no longer just a "nice-to-have." Register now for SGRT: The New Essential, our biggest-ever global virtual conference, held over four Fridays in April.
This event acknowledges the increasing importance of SGRT and gives radiation oncology professionals like you a chance to learn from and connect with each other.
For some clinics, SGRT's contact-free nature has become a key factor in their infection prevention protocols. It has helped others embrace hypofractionation. And many centers have embraced SGRT because of its patient comfort benefits, allowing them to go tattoo and mark-free or ditch rigid, uncomfortable head frames and closed masks in their SRS treatments. In an ever-changing healthcare landscape, SGRT can help improve outcomes and find efficiencies- and these have become more essential than ever.
The SGRT Community is pleased to announce that this event will be entirely free to attend, offers CE credits* for eligible attendees and will feature a distinguished series of expert speakers from around the world. Each 90-minute session will include plenty of opportunities for any questions you might have.
Register for this event
Click on the button below to sign up for this event.
Register