SGRT Annual European Meeting 2023
Date:
Nov 30th-Dec 1st, 2023
Location:
London, UK
Venue:
etc. venues County Hall
Registrations are now open for this year's European SGRT Community Meeting, being held in London, November 30th and December 1st.
Register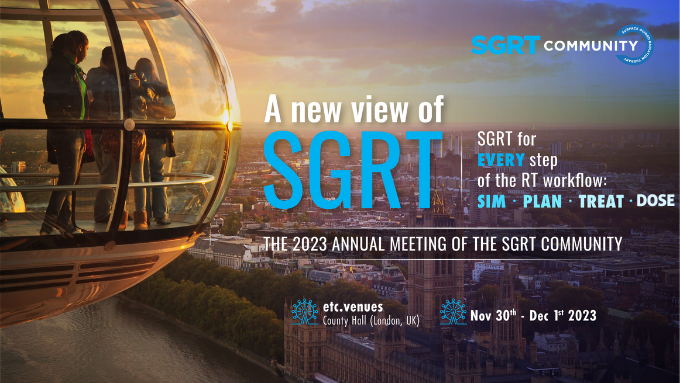 Agenda
We're pleased to announce registration is now open for: 
A New View of SGRT, the 7th annual European meeting of the SGRT Community
This two-day in-person event will be taking place November 30th & December 1st, 2023 in London. The venue is the same as last year: etc venues London County Hall, a comfortable and modern space right next to the London Eye and just across the river from Big Ben and the Houses of Parliament.
Every year, SGRT Europe seems to get bigger and better. This time around, we've had dozens of abstracts submitted, from experienced SGRT users from all over the world, covering a huge variety of topics. If you still see SGRT as "just" motion management, the content of this year's event is sure to give you a new view of SGRT, which has evolved into an entire family of solutions, enhancing the entire radiation therapy workflow: Sim, Plan, Treat and Dose. If that intrigues you, this is the event to find out more from active clinical users.
We'll be announcing a full agenda soon, but in the meantime we encourage you to register now, using the link below, as spaces will fill quickly.
About the event
SGRT Europe, as always will be completely FREE and will be 100% clinically driven, with all sessions and talks delivered by SGRT users. As in previous years, the day will be made up of presentations, workshops, latest innovations and applications, real-life case reports, and networking with peers and vendors.
This is an in-person event, but all content will be recorded and videos made available via sgrt.org at a later date.
Content at this event will be tailored to all stakeholders in the radiotherapy process, but primarily Clinicians, Physicists and Radiation Therapists.  The event will be tailored to meet the needs of those who do not currently have SGRT to those just starting their journey as well as experienced users who are looking to hear about the latest studies and research
Join us once again at: etc County Hall, a state-of-the-art venue located right next to the London Eye and across from the Houses of Parliament for this special event.
Here is a link showing hotels near the venue: https://HotelMap.com/MKPXD.