SGRT-meeting Nederland en Vlaanderen 2023
Date:
24 maart 2023
Location:
Utrecht
Venue:
Auditorium UMC Utrecht, Afdeling Radiotherapie
Interesse in SGRT, ook in combinatie met Adaptive Online RT?
RT-IDea EU en Vision RT nodigen u uit voor deze leerzame studiedag, in samenwerking met de SGRT Community: Delivering Clinical Excellence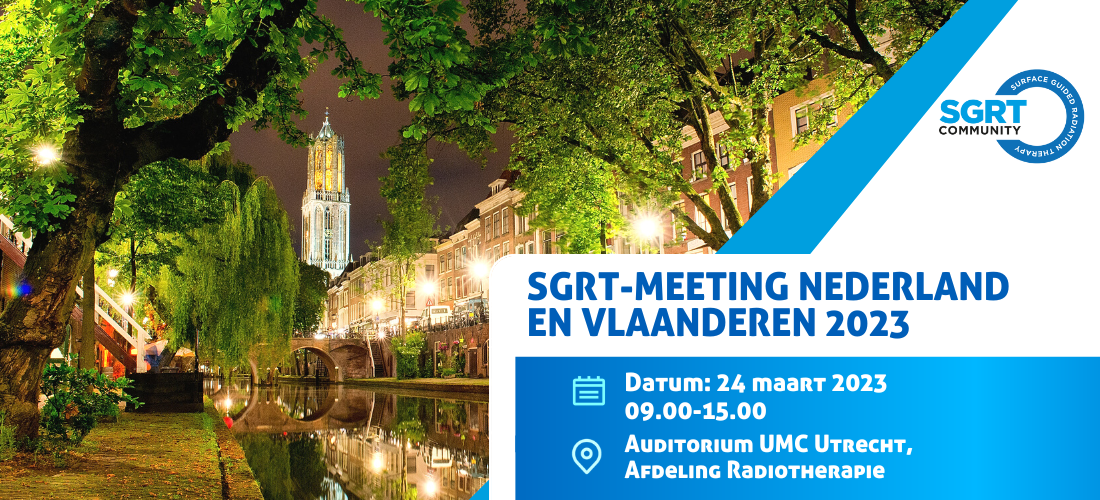 Agenda
9.00-10.00   Registratie 
10.00    Opening 
10.15 Implementatie van AlignRT, tattoo-loos vanaf dag 1.
Lieselot Verschaeren,  Verpleegkundige radiotherapie (RTT), AZ Sint-Maarten Mechelen, België
10.45    Measuring and Improving Radiotherapy efficiency with SGRT Implementation
Amy Shaw, Technical Lead Radiographer, Southampton University Hospital, UK
11.15     Pauze    
11.30    SGRT enabling safer adaptive treatments for every patient every fraction.     
Luke Rock, Chief Medical Physicist, Beacon Hospital Dublin, Ierland
12.15     Klinische implementatie van VMAT- gated- DIBH voor linkszijdige mammacarcinoom met gebruik van AlignRT
Dr. Sophie Huijskens, Medisch fysicus in opleiding, Erasmus MC, Rotterdam, Nederland
12.45    Lunch Break
13:30    'SGRT met AlignRT InBore in Halcyon', The UZ Leuven experience: Laurence Delombaerde, Medical Physicist, UZ Leuven, Belgium
14:00    The VisionRT Roadmap: Ben Waghorn – Remote
14.45     Einde van de dag  
About the event
Over dit evenement
Recent hebben we waargenomen dat de adoptie en acceptatie van SGRT in Nederland en België toeneemt en we zijn dan ook trots om met onze klinische partners samen te werken om verdere verbeteringen aan te brengen in de radiotherapie behandelingen op deze afdelingen. We zijn verheugd verschillende van deze ziekenhuizen te mogen verwelkomen om hun ervaringen te delen.
Schrijf je in voor deze gratis SGRT- studiedag en ontdek de vele klinische, maar ook patiënt voordelen en verbeteringen, die de introductie van SGRT op uw afdeling kan brengen.
De dag wordt geleid door SGRT- gebruikers uit Nederland, België en andere prominente klinieken uit Europa, die hun ervaringen delen over de vele klinische verbeteringen en de patiënt vriendelijkheid van Surface Guided Radiation Therapy.
Register for this event
Registration is not available at this time.