SGRT Southwest UK NHS Study Day
Date:
26 April, 2023 10 am start
Location:
Poole
Venue:
St Mary's Church Centre & Poole Hospital- Longfleet Road, Poole, Dorset
Join us in Poole for a special SGRT study day for NHS staff.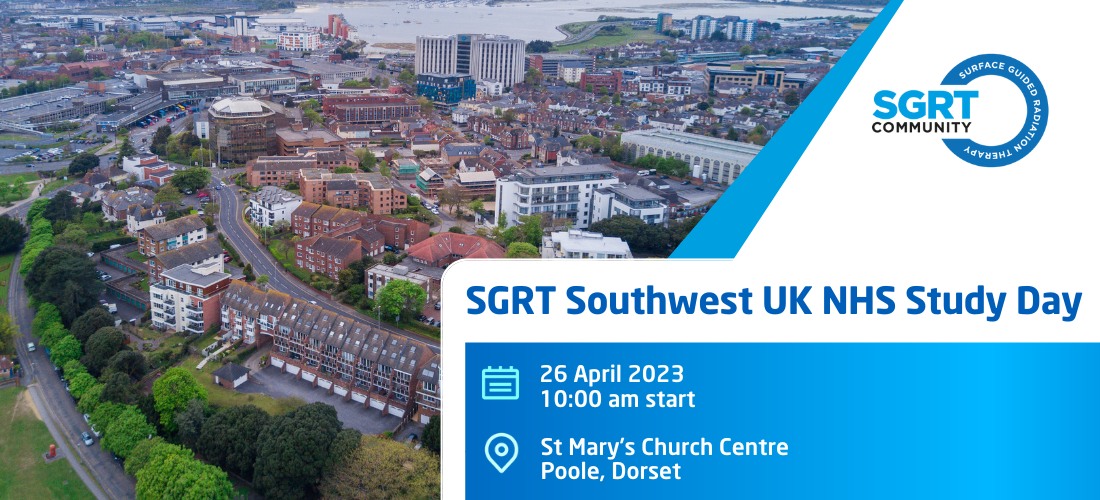 Agenda
Thank you for attending this event.
The event took place at St Mary's Church Centre (Longfleet Road, Poole, Dorset, BH15 2JD), adjacent to Poole Hospital
9.30-10.00
Coffee/ Registration
---
10.00-10.15
Opening from Jonny Lee, Head of Radiotherapy Physics, University Hospitals Dorset
---
10.15 – 10.45
Go-Live with tattooless radiotherapy treatments – Lydia Kedziorek, Principal Treatment Superintendent, University Hospitals of Derby and Burton NHS Foundation Trust, Royal Derby Hospital.
---
10.45 -11.15
Measuring and improving radiotherapy delivery efficiency with SGRT implementation. Gary Lau, Therapeutic Radiographer, Southampton University Hospital.
---
11.15 – 11.45
DIBH, tattooless and beyond,  Ben Allen, Trainee Consultant Breast Radiographer, Queen Elizabeth Hospital NHS Trust.  
---
11.45 – 12.45
Lunch
---
12.45 – 1.15 –
DIBH with AlignRT on Halcyon The UZ Leuven experience, Laurence Delombaerde, PhD, Medical Physicist, Dept. of Radiotherapy-Oncology, UZ Leuven.
---
1.15 – 1.45
Considerations for procurement, Josh Naylor, Principal Physicist, University Hospitals Dorset Presentation.
---
1.45 -2.15
Q&A – Ask the experts panel session. All speakers plus Ricky Straw, Senior Therapy Radiographer, Royal Berkshire NHS Foundation Trust.
---
2.15 – 2.30
Break and move to clinic for hands-on sessions
---
2.30 – 3.00
Hands-on sessions: Group 1 AlignRT / Group 2 SimRT / Group 3 RoadMap
---
3.05 – 3.35
Hands-on sessions: Group 1 SimRT/ Group 2 RoadMap / Group 3 AlignRT
---
3.40 – 4.20
Hands-0n sessions: Group 1 RoadMap / Group 2 AlignRT / Group 3 SimRT
---
4.20
Closing Remarks
---
4.30 Close  
About the event
Join us in Poole for a special study event dedicated to advancing NHS staff's practical knowledge of Surface Guided Radiation Therapy. There will be an emphasis on implementation within an NHS environment, including presentations on full clinical adoption across multiple indications and overall best practice. These will include information on an InBore solution for Halcyon and Ethos linear accelerators, tattooless radiotherapy, DIBH, SABR/SBRT, time-savings effiiciencies and more.
The day will be led by current NHS users, discussing the clinical and patient benefits of SGRT. There will also be an opportunity for hands-on learning and live clinical demonstrations at Poole Hospital.
The event will also feature a short presentation from Vision RT, the inventors of Surface Guided Radiation Therapy, on their future product roadmap.
Register for this event
Registration is not available at this time.