The June, 2023 edition of our popular SGRTuesdays webinar series is now available on-demand. Register below for instant access.
Register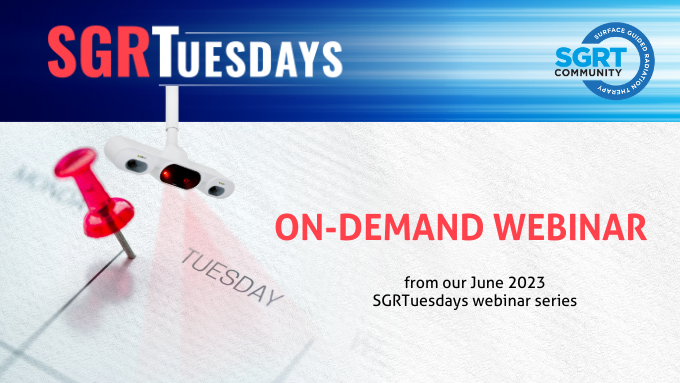 Agenda
This is the June, 2023 edition of our popular SGRTuesdays webinar series:
---
Session 1
Getting started with SGRT
See, Do, Teach: Peer Training Enhances Understanding of SGRT & Increases Employee Satisfaction
Kaci Slevin, RT(R)(T), MBA, Radiation Therapist, Northwell Health, Hempstead, NY

Staffing Challenges: Implementation in a Small, Rural Alaskan Radiation Oncology Clinic
Libby Torresani, BS, RT(T), Department Manager & Lead Radiation Therapist, Peninsula Radiation Oncology Center, Soldatna, AK
---
Session 2:
SGRT and the latest treatments in breast cancer
Our Experience: Five-fraction Breast Cancer Treatment
Brooke Horning, BSRT(R)(T), Photon Team Lead Therapist, Mayo Clinic, Phoenix, AZ

Prone Breast Treatments Using SGRT: Accuracy, Impact, Workflows
Margaret Barker, MS, Medical Physicist, MemorialCare Todd Cancer Institute, Long Beach, CA
---
Session 3:
Tattoo and Mark Free with SGRT
Getting Started: Our Journey to Tattoo/Mark-free Breast Treatments
Jotsna Singh, RT(T), Chief Radiation Therapist , UC Davis Health Radiation Oncology, Sacramento, CA

Less is More: How to Dramatically Simplify Simulation & New Starts by Embracing a Markless Workflow
Ryan Hecox, MS, DABR, Lead Medical Physicist, Intermountain Health – Canyons Region, Provo, UT
---
Session 4:
Simplifying the complex with SGRT
SGRT Use with Triggered Imaging in DIBH Liver Metastases Treatment
Emily Goddard, MSAH, RT(R)(T), Radiation Therapy Supervisor, University of Tennessee Medical Center, Knoxville, TN

Extended SSD Use in Metastatic Melanoma Treatment – Right Femur
Jonathan Ortiz, RT(T), MBA, BS, Radiation Therapist, Yale New Haven Health – Smilow Cancer Hospital, Greenwich, CT
Treatment of Fungating Bi-lateral Breast Diagnosis
Aishling Mohan, RTT, BSc Hons, Senior Radiation Therapist, Beacon Hospital, Dublin, Ireland
Use of Unconventional ROIs in Complex Cases
Hannah Saunders, RT(R)(T), Radiation Therapist, Cone Health Cancer Center – Wesley Long, Greensboro, NC
About the event
SGRTuesdays
This popular webinar series features experienced users of Surface Guided Radiation Therapy (SGRT) sharing their knowledge.
---
Vision RT is proud to be the financial sponsor, administrator and editor of the SGRT Community. Users and potential users of all SGRT systems can join the community, attend events and post messages on our forum. Clinical content is provided by users of SGRT and their views, workflows, clinical results etc are not endorsed or validated by Vision RT.
Register for this event
Register to access videos on-demand:
Register