2023 US Annual SGRT Meeting: The Next Stop on Your SGRT Journey
Date:
May 11 - 12, 2023
Location:
New York City
Venue:
TWA Hotel, JFK Airport
Registrations for this hybrid (online and in-person) event are now open.
Register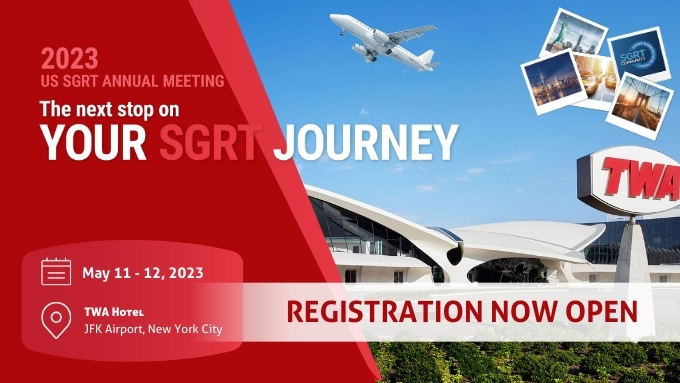 Agenda
---
Abstracts are still open
Abstracts are open until February 6th and we are seeking submissions for in-person presentations, clinical case studies and posters on the following:
SGRT selection process and implementation
Photon / Proton
Hypofractionation
In-Bore
CT Sim
Time savings / efficiencies
Reduced imaging
Safety
Staff and patient satisfaction
Patient education / marketing
Tattoo and mark-free treatments
Latest studies/observations across all clinical indications but in particular:

SRS / SBRT
Prostate
Head & Neck
Breast
Click here to submit your abstract.
Travel grants are available for successful submissions.
---
Vision RT is proud to be the main financial sponsor, administrator and editor of the SGRT Community. Users and potential users of all SGRT systems can join the community, attend events and post messages on our forum. Clinical content is provided by users of SGRT and their views, workflows, clinical results etc are not endorsed or validated by Vision RT.
About the event
---
Registration has just opened
We're thrilled to announce registration is now open for the 2023 Annual meeting of the SGRT Community.
This year's theme is: The Next Stop on Your SGRT Journey, as this event will feature peer presentations to benefit every level of SGRT experience, from those considering taking their first trip with SGRT, to seasoned SGRT travelers looking to learn about the latest and greatest implementations and innovations.
Join us May 11th and 12th at the fabulous and retro-futuristic TWA hotel in New York's JFK airport. It's an amazing venue, filled with design touches and creature comforts from a bygone era. It's a free event with CE credits* available for in-person attendees. Even if you can't make it to New York, this will be a hybrid event, so you can still take part virtually.
We'll be sharing more information on the agenda soon – it's not too late to submit an abstract** – but you can count on hearing from presenters from some of the most respected clinics in the world, sharing their experiences from a wide variety of clinical contexts.

*CE credits pending. Visit the registration page for the latest information
**Travel grants available for successful submissions