SGRT Birmingham Study Day
Date:
15 September, 2022
Venue:
Grand Hotel Birmingham
This is the registration page for the SGRT Community Birmingham Study Day: "Putting Patients First"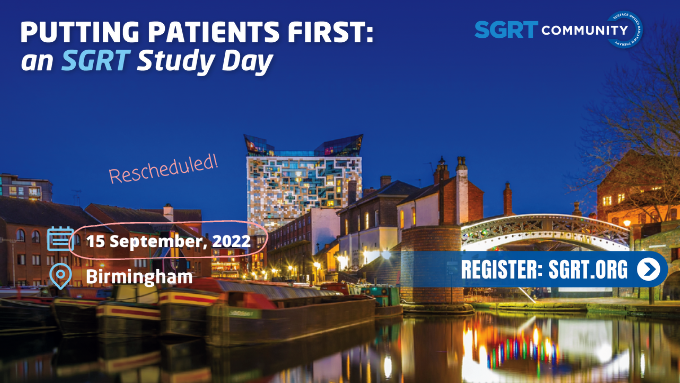 Agenda
12.

00 –

Arrival, lunch

13.00 – Welcome

Menna Creed, Head of SGRT Development,

Vision RT

13.10 –

How to Choose and Implement SGRT: Lessons Learnt

Phil Sharpe, Clinical Scientist and

Marie Brown, Treatment Superintendent


University Hospitals Coventry and Warwickshire

13:30 –

SimRT

: Workflows and Optimising DIBH Planning

Julie Kilkenny,

Technical Lead Practitioner (Pre-treatment)- Radiotherapy

, QE, University Hospitals Birmingham

14:00 –

SGRT for DIBH: from Zero to Hero

Julie Davies, Lead Therapeutic Radiographer, Christie at Oldham

14:30 – BREAK

15:00 –

SGRT;

Going

Live with Tattoo and Mark-free Treatments

L

ydia

K

edziorek

, Therapeutic Radiographer, Royal Derby Hospital

15:30:

SGRT for SABR from Implementation, Go-live Clinical Results

Victoria H. Hammond-Turner , Technical and Development Lead for Radiotherapy, Berkshire Cancer Centre

16:00:

The Future with Vision RT

Ben Waghorn, VP Product Management, Vision RT

16:30: INFORMAL NETWORKING, DRINKS AND CANAPES

18:00: END OF EVENT
About the event
*** Registration is now closed. For more information please contact secretary@sgrt.org.***
We are happy to announce a new date for our recently-postponed SGRT Community event.
Please join us 15 September, 2022 at the Grand Hotel Birmingham, for a Surface Guided Radiation Therapy Study Day, with the theme: "Putting Patients First."
This free event will feature the same engaging agenda we had planned, with SGRT users from throughout the NHS, including experts from the Christie in Manchester, QE in Birmingham, Berkshire Cancer Centre, and many others.
Register for this event
Registration is not available at this time.